It's Fabulous Lucky Friday! My favorite day of the week so I decided to have 2 guests on the site today! We featured Lady Whipp and her post on waiting earlier and since I've been feeling unorganized all day, (week) I loved hearing from Lorena at MamaSqueaks.  For Moms struggling with the morning routine, or heke, all the routines; this is a must read!  Check out her site for more info on essential oils, things she loves and other posts about Mom's life.
Hope you wore your green today! ♣♣♣
Blessings, Elizabeth♥
---
---
Finding Out That You Are Nothing Like Mary Poppins
I always pictured myself being the perfect Mom who never yelled at her children, read to them every night and only fed them healthy, organic food.  Then I actually had children and found out that only happens in the movies or you have to be some sort of superhero to achieve this.  Well, apparently my cape is buried under laundry or toys because I can't seem to find it.
Some Moms have it all together.
These Moms are the ones that wake up with perfect hair and makeup every morning as they cheerfully make homemade French toast and freshly squeezed orange juice meanwhile I'm trying to find a box of cereal that my kids will eat without giving me a dirty look because the name of it sounds "yucky" as I trip over the dog, spill my coffee and get glazed donut on my scrubs.
Driving the Kids to School in your bathrobe.
Some mornings, ok most mornings I am trying to do too many things at once so that when I get home after work, school etc I won't have my usual 589 things to do but will instead have 567 things to do.  For some reason, I continue to believe this works.  Silly me.
Often I will be so focused on getting the kids out the door on time, pets fed, dishes washed and put away, 1 load of laundry that I started at 6am put in the dryer, lights turned off and all the other OCD things I do before I leave my house that I don't realize that I am still wearing either my slippers, bathrobe or even that 1 pink foam curler I accidentally left in my hair.  Good times!
Mornings of Chaos
These mornings of chaos will end one day and you will be wondering where everyone went according to my Mom so I will try to enjoy it a little more while it lasts.  I have found however that if I pack lunches, backpacks and anything else needed for the next day as soon as I get home from work that same day it makes it easier for me to keep up with all the other things I need to do in the evenings and mornings.  That way I'm not pulling out all of my hair. Just a few strands here and there.
This is what works for me!
Like I mentioned before, I make all of our lunches for the next day the minute I get home. Sometimes if I'm really tired I have the kids help out.  I have lunch items ready to go in my fridge and pantry which makes this easier for the kids to grab and put in their lunch boxes.  Just make sure you check after they are done because a string cheese, Capri sun and a bag of Cheetos does not qualify as a lunch apparently.  Who makes these rules anyway?
I start 1 load of laundry when I get up on the days I have to work so that I can throw it in the dryer as I walk out the door.  I put it all away sometime in the evening.
Then I have a  glass of wine at the end of the day and who really cares about the rest of this list because I have wine…
This post contains affiliate links from our sponsors to support this blog.
Feeling unorganized?   Cozi: the #1 solution for organizing busy families. Try it today for free!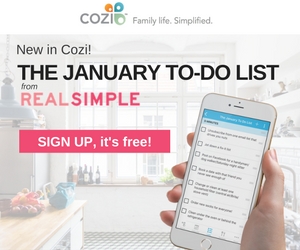 Find a Housekeeper!