Disclosure: This shop has been compensated by Collective Bias, Inc. and its advertiser. All opinions are mine alone. #WhatFuelsRight #CollectiveBias
We work so hard at keeping our family healthy and happy but many times due to the busyness of life forget about the four-legged members of our family.  They bring us much joy, laughter and fun so they deserve the very best from us!  As a proud owner of a 1-yr-old Lab puppy named Buster, I can tell you, they will eat anything and everything even though this is not always in their best interest!  Our yard is sometimes littered with the remnants of something Buster ate and we are constantly taking something out of this little explorers mouth.  If it was up to him, he would eat chocolate, pizza and bones all day but as "responsible" pet owners, we must make smart nutritional feeding choices for them! You can rest assured your dog will be healthy and happy by following these 5 simple feeding tips!
 Pick the Best Dog Food
Of course every pooch is different and their needs change over time but it is fairly easy to pick out a smart nutritional dog food.   You can pick between wet or dry and also pick your dog's stage of life — puppy, pregnant or nursing, or adult.  Look for statements on the package that the food is "complete and balanced." "Complete" meaning for your dogs life stage, the food has all the nutrients they need and  "balanced" meaning nutrients are in the correct ratios.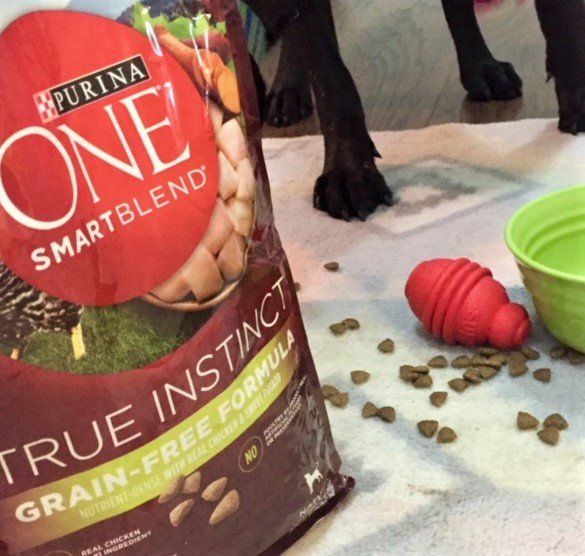 Buster loves Purina ONE® Smartblend® True Instinct Adult Dog Food!  It comes in many flavors but his favorite is Grain Free, Chicken & Sweet Potato.  Since it is recommended to find complete and balanced diets for your dog,  Purina is a natural choice because they are a leader in wholesome pet nutrition, which includes Protein, Grain-Free and Natural.  We always shop at PetSmart because they have the widest variety of premium quality Purina products for Buster and always at amazing prices plus how cool is it that Buster can come shopping with us and feel like a true member of the family!  Interested in seeing what Buster eats?  Hover over the photo above to click through to the PetSmart website!
Serving Size
Now that you have picked out the best food for your family FIDO, you need to make sure you are feeding correctly.    The best way to know what  your dog needs is to check with your vet.  He might suggest checking the serving size guidelines on the package of your dog's food  to make sure you are feeding correctly according to their age, size and needs.  For example, Buster gets 5 cups of dry food each day, which is recommended for this kind of dog and his age.  We give him the cups 1 at a time so he has 5 feeding times a day.   Always providing the recommended amount of food  will help establish routines with your dog and help make sure they are getting the nutrition they need.  If we feed him wet dog food like Purina ONE Turkey & Venison Tender Cuts in Gravy then his servings size is 4 1/2 cans a day based on his age and weight.
Serving Time
Again every family and dog is different so you can make adjustments as your schedules allow but you do not want to just lay food down and make it a free-for-all as this encourages overeating.  Dogs are like people that they need set eating times and set serving sizes when they do eat.  As mentioned above, Buster has 5 feeding times a day, always at the same times; doing so will ensure that you are providing smart nutritional feeding choices for them.  We put the food bowl down for 20 or 30 minutes to allow him to eat.  If he doesn't eat it, we pick it up.   As he moves more into adult hood, his nutritional needs will change and we will have to make some adjustments to his times and serving sizes.
Serving Area
Another way to help ensure your dog is eating and feeling comfortable doing so is to establish one area where you feed him.  This is "his" place to eat and drink.  This will help not only establish routines again but help the dog feel like part of the family since dogs are routine driven animals and like their own space sometimes.   This spot should be in a place that is out of the way and will allow your dog to eat slowly and enjoy his food.  Gulping down food can lead to digestive problems so allow your dog plenty of time to eat.  Buster has his own little area in our kitchen against the side counter that he likes very much!
What about Table Scraps
We have all done it!  Your cute little dog is barking, whining or looking at your with those oh so cute eyes begging for whatever you are eating, so you give in and toss him a scrap.  This, however, is a big no no and not recommended by most veterinarians.     It's almost impossible to create a well-balanced diet from table scraps because you will not be able to keep track of what your dog is digesting if everyone in your family is throwing out scraps at all different times of the day.  It is best to just make it a rule in the house that everyone lives by and that is saying NO to table scraps.
Besides the annoying bad behavior like barking and whining that you teach your dog when you give him table scraps, they are just not a good healthy choice for your dogs overall nutrition.  People food can cause all kinds of havoc for our dog friends including stomach upset, weight gain, teeth damage and even possible death if toxic foods like chocolate are taken in.  There are plenty of healthy dog treats available at retailers like PetSmart that display the nutritional values right on the package.
Now that you know the best way to feed Fido are you ready to connect with other people who go the extra mile for their pets?  Head on over to the Purina Social Hub and see who is chatting about what!  I guarantee they will be chatting about quality food from Purina and this special offer from PetSmart that starts 3/4/2018!  Look for the inserts!  You don't want to miss it!