This shop has been compensated by Collective Bias, Inc. and its advertiser. All opinions are mine alone. #CueTheNewYear #CueVapor #SatisfactionAtLast #CollectiveBias
This post is intended for an audience of adults age 18 and older.
We are so excited to bring in another new year! It brings so many new options and new things to try! As a family we have many things to try out this year but our theme is going to be simple! We want to simplify our lives and make things easier. First up on my hubby's list is to simplify the whole vaping thing.
My husband has tried so many different products on the market and had many different epic fails. He has broken the glass on some of them, lost pieces on others and plain just didn't know how to operate many of the pricey devices. We eventually found out about the Cue™ Vapor System and were so excited to get it as we heard it was just as easy as pop it in and go. You can purchase this online or check the store locator to find a location that sells it near you! You can also sign up for their subscription program and save 15% on cartridges! The brand promises Vaping. Made simple.™ Hey with a promise like that, we had to try it!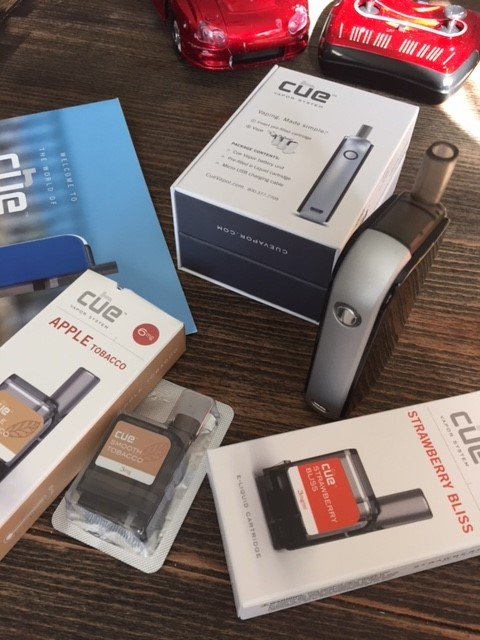 I ordered the System and just as promised, it is so simple! He literally opened up the box and followed a few easy steps and was on his way to vaping!
Step 1- Charge the Cue and wait for the light to turn green and the battery to charge.
Step 2- Take out the Cue cartridge. The hard part was deciding what flavors to order as they had so many. We purchased the Apple Tobacco, Strawberry Bliss Limited Edition and Smooth Tobacco flavors to start.
Step 3- Take off the plug and covers on the Cue cartridge, and then insert the cartridge at a slight angle and click it in place. It slides right in very easily. Don't force it.
Click the button quickly five times within 2 seconds to turn the device on or off and start vaping. Viola. Easy.
Coming from someone who has tried many different kinds of devices, my husband said this is hands down one of the easiest most hassle-free devices he has ever used. He also said the Strawberry Bliss Limited Edition flavor was excellent and he would continue to use and order it. The pre-filled, disposable cartridges are definitely easier than the bottles of liquid that he is used to and it does simplify his vaping experience. There are no batteries to mess with just an easy to use micro USB charging cable and of course the carefully-crafted patented Cue device that is simple effective and reliable!
We will be making the shift to the Cue Vapor System as our first big new years simplifying goal and wish you the best of luck with all your new year goals as well!
NOT FOR SALE TO MINORS. California Proposition Warning statement: "WARNING: This product
can expose you to chemicals including nicotine, which is known to the State of California to cause
birth defects or other reproductive harm. For more information, go to www.P65.com. WARNING:
This product contains nicotine. Nicotine is an addictive chemical. Cue™ the Cue Logo and Vaping.
Made Simple.™ are trademarks of Digirettes, Inc.