This shop has been compensated by Collective Bias, Inc. and its advertiser.  All opinions are mine alone. #PlayWithPlaymobil #CollectiveBias
Oh to be a kid again and have the whole day to play!  Wouldn't that be a wonderful alternative to the busy busy world that we moms live in?  Imagine turning the alarm clock OFF, letting those dishes SIT in the sink and letting the car pool lane GO without you because today you are going to play like a kid!  Playing is in fact serious business to your child and believe it or not there are 6 different ways that kids will "play" according to Mildred Parten Newhall and her Child's Play Theory.  Don't worry if you kiddo doesn't fall in line with one of these stages, just familiarize yourself with the 6 cool ways your kids will play so you can join in the fun and help them along!
UNOCCUPIED PLAY
What are babies known for best?  That's right, just laying around, putting things in their mouths and kicking their little hearts out!  Kiddos ages 0-2 are known for unoccupied play, where they are not "playing" per se,  just observing and learning about the world around them.  This was one of my favorite stages because your baby starts to acknowledge things in the world around them and isn't just laying around crying all the time, however, as your kids grow they will still play in this way.  Some perfect toys to give your kiddo during this stage might be a rattle or mobile to watch.
SOLITARY PLAY
Around years two and three your child will really start to "play" in the sense we think about it, but alone.  Totally content (and not interested in others) as to what they are doing at that moment without a care in the world.  They might be playing with a toy, building blocks or looking at a book.   This is totally normal and okay as kids need to learn to like and play alone.  This stage is a building block for what's to come in the years ahead.  When my kids were this age, I gave them large blocks, ride-on toys and wheeled vehicles they could push and watch go.  Now ages 5 and 6 they still engage in this type of play, so again, don't worry if your kiddo is stuck here or not here yet.
A great idea of a type of wheeled vehicle toy to have available for them at this stage is the PLAYMOBIL sets like the School Bus above.   As they start to understand their world and how it works they can transport the play kid figures to and from school with the School Bus.   The School Bus comes with front and rear lights and ample seating for the four figures provided.  There are small parts (not for children under 3 years) so might want to put those parts up until later and find a different set as they have several types  at Walmart to chose from!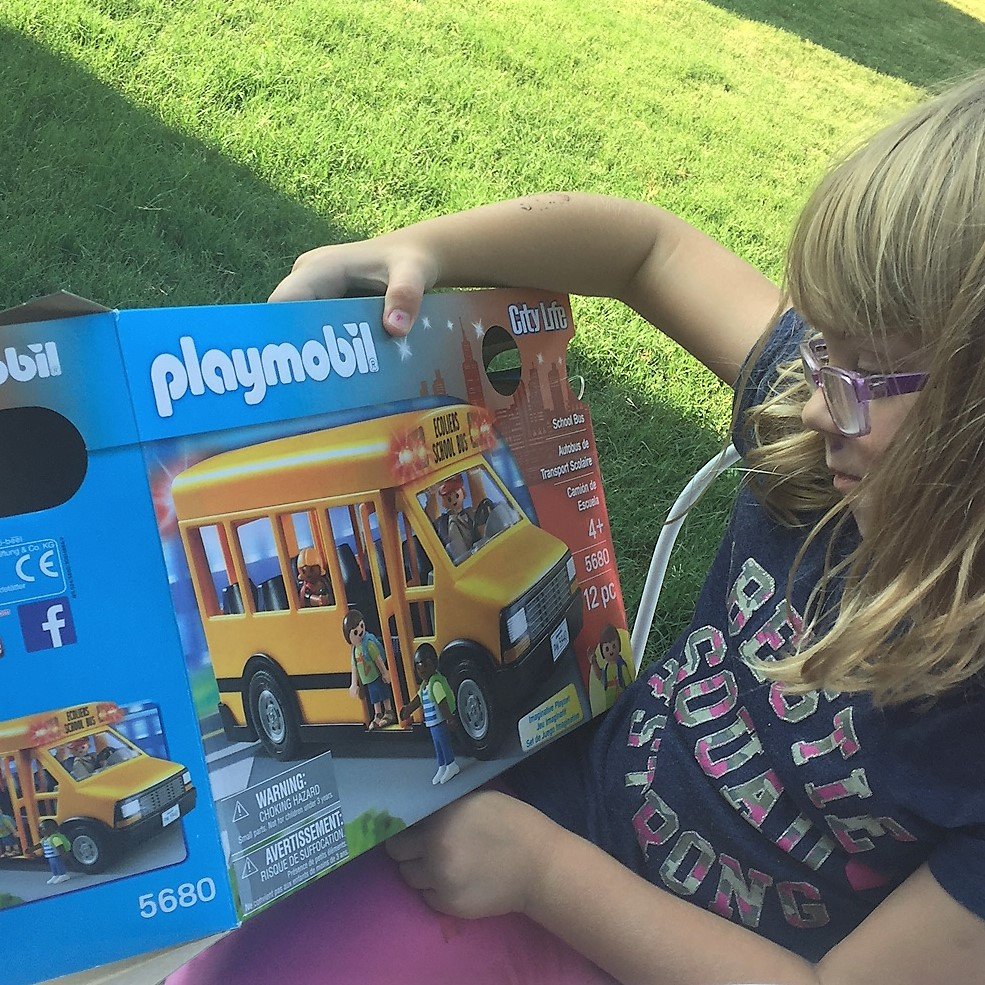 Interested in checking out our PLAYMOBIL School Bus?  Hover over the photo to go straight to Walmart to get it!
ONLOOKER PLAY
Around the same time as solitary play, comes onlooker play.  Ever watch your child at the park and she is sitting there watching the others play?  Perhaps shes standing by the jungle gym or on the floor with the kids at daycare and even talking to the kids but does not join in on the fun.  This is onlooker play and can occur well into the elementary school age.  Kids need to watch and learn as it is part of learning the ropes (rules) and is absolutely normal.  Encourage them to join in or tell them it's okay to watch!  At this stage you just want to help them have fun and use their imagination as they play.
PARALLEL PLAY
Ever see two kids around 3 and 4 years of age playing next to each other with toys but not playing with each other?  This is called parallel play and is invaluable to your child to help them learn about being part of a social world!   They might chat it up but this will be limited as they play side by side but still independently.  It might look like they are not paying attention to each other, but they are learning to mimic each others behaviors,  take turns with their toys and how to get along with others.
My kids love getting down on the ground together and playing side by side.  Sometimes they play together but other times just enjoy their own thing and being around each other.  The PLAYMOBIL sets from Walmart are great at this stage for encouraging imagination and building social skills.   I love watching and listening to them since they come up with the funniest stuff.  The other day they were taking their little figures on the bus to some garage sales!  I have been known to get down on the floor with them as well for some good ole family time fun!
ASSOCIATIVE PLAY
Around ages 2 1/2 to 4 you might spot your kiddo and friend both playing with the same toys next to each other but not actually playing with each other still.  Much like parallel play your child is still working independently but associative play involves playing with a group of kids with similar goals.   There are no rules or organization, just playing the same game or working with the same materials.  Your kids might start to talk about friends they are making or things they like during this stage.  Toys, like PLAYMOBIL sets, that spark imagination and encourage "group" are great here to have for your kids.
PLAYMOBIL doesn't just have the School Bus set, they have lots of sets that will encourage imaginative play and build cognitive skills like a Take Along Police Station, Take Along Fire Station, a Hidden Temple with T-Rex, a Large City Zoo set, a Rescue Ambulance set and a Rescue Ladder Unit set.  Whoo!   I love that Walmart now carries them so I can pick them up at a great price on one of my weekly trips there!  Make sure you check their PLAYMOBIL sets out too!
COOPERATIVE PLAY
Lastly, around age 4 or 5, your kids will be ready to play together with other kids.  They have learned several invaluable lessons up until now like socializing, communicating and problem solving that have taught them to be more organized and socially mature.  You will see your kids playing tag with other kids, playing with toys together or participating in team sports during this stage.  In groups of one or more they play with an overall goal and usually leaders and followers will emerge.
A great example of group play is my kids love playing "Going to the Zoo" with each other so the Zoo PLAYMOBIL set is great for them at this stage to do their thing!  It comes with seven figures, two adult lions and one cub, two adult and four baby penguins, peacock, fish with bucket, wheelbarrow with meat, child stroller, mouse, postcards, cash register, camera, fencing, and tons of other accessories.
Mom Bonus- Fun PLAYMOBIL sets
The pieces in the sets are all high quality, not like the cheapo sets that fall apart.  The attention to detail of the sets is superb, for example, the Take Along Police Station set even has a jail cell with a breakaway window in case the bad guy wants to escape!  All the little figures can all bend, sit, stand and even turn their heads which is totally cool.
Enjoy watching your kids play, learn and go through all 6 stages of play!  Remember it is not forever and is over in the blink of an eye.
The MOM behind Mom Always Knows. Inspired by a long line of other Moms who also always knew. I don't know everything by any means but what I don't know, I can find out, that's for sure! I am a super Mom, just like you, juggling everything life throws this way. I love God first and foremost, am happily married and am raising 2 beautiful and headstrong little girls ages 4 and 5 who will often be the inspirations of my blog. I work full-time and dedicate myself to this site in the moments between housework, work, family time and life.
I am passionate about all of the topics you'll find on my blog but most of all being a Mom and everything to do with MOM.